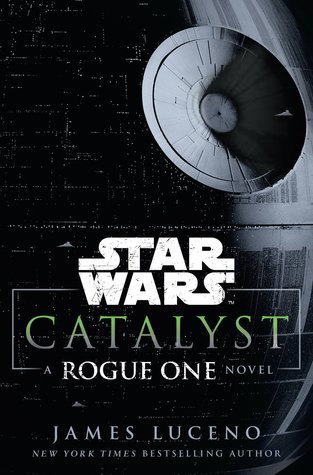 Today I'm looking at a book called
Catalyst
set within the new Star Wars universe after the reboot/realignment/whathaveyou after the Disney purchase of the franchise.
Catalyst
takes place over several years, starting during the Clone Wars and ending sometime before
Rogue One
begins. The book is mostly about Jyn Erso's parents, Lyra and Galen, as well as Orson Krennic. (The guy with the white uniform in
Rogue One
if you weren't sure.) As you might also guess from the cover, the book has a lot to do with the Death Star project and Galen Erso's initially unknowing cooperation in the development of the Death Star's planet-killing superlaser.
The book begins with the Ersos being on a remote planet of the galaxy involved in research of kyber crystals, the crystals used in lightsabers, and their incredible energy potential. Unfortunately for them, the Clone Wars results in a shift of planetary government and Galen finds himself imprisoned on suspicion of being a Republic spy. Fortunately Krennic, an old school friend of Galen's and involved in the highly secret Republic superweapon project, puts together a rescue team. However this proves to be a mixed blessing because Krennic's real motivations for helping the Ersos is to get Galen, even somewhat indirectly, to start working on crystal technology that can be applied to the superweapon.
My overall opinion of the book is it was okay, but not really worth the effort of reading or listening to. It has that major problem of prequels in that we know the main characters are going to survive to the point where they started in
Rogue One
so there's not a lot of tension for bad things happening. Despite all the setbacks Krennic suffers, we know he's going to survive to be an antagonist in
Rogue One
with CGI Tarkin. Despite the horrible discoveries into Imperial plans the Ersos make, we know they're going to make it to their farm. As I've said before, a good prequel manages to make you doubt how it's going to end, even though you already know the ending, and I think that was the biggest strength of
Rogue One
. Even knowing that the Death Star plans were going to get to Leia by the end of the movie, I still wasn't certain that Jyn and Cassian would get the message through in time.
Catalyst
just lacks that same tension which makes it a bad prequel.
Another big issue I had was this book started raising some serious questions about the Death Star. I know that it's kind of silly for me to say the Death Star is unrealistic. I mean, it's a giant moon-sized space station capable of destroying a planet, as well as travelling through hyperspace. It's inherently a ridiculous notion. The problem I have is how under wraps the entire project manages to be successfully kept secret for two decades. Sometime during the Clone Wars the Republic actually begins construction of the Death Star, called the Ultimate Weapon. In the book it's implied that a whole government committee is involved in overseeing the project and getting regular status updates on it as well. And there are two things government committees spawn, regardless of the universe they're in: paperwork and more committees. I don't think Luceno exactly states how many people are involved in these committees but I got the impression it was fairly large, which would make it nearly impossible to keep everyone from talking about it.
And then there are the sheer number of resources involved as well. The Empire is literally stripping planets bare to come up with the resources to build the Death Star, along with their Star Destroyers, TIE fighters, AT-ATs, and who knows what else. In the book it's stated that all the Death Star resources get hidden in the huge ledgers of materials the Empire is using, but considering the Death Star's being built at Geonosis and there are no major shipyards or other factories there, you'd think people would start wondering. I could see the Death Star being built and kept secret over a period of three or five years. That makes sense to me. But two decades stretches my suspension of disbelief, even for Star Wars.
We also sort of get the religious elements of kyber crystals, and yet not really. We do see Lyra being a Force...devotee I guess? Like she believes in the Force as a religion but I got the impression she wasn't actually Force-sensitive. Space magic is weird. And it's mentioned that other people worship the kyber crystals as well sort of like what we saw on Jedha in
Rogue One
. But aside from sort of a vague explanation that the crystals are magic, we don't really know why people hold them to be sacred. I kind of wish there had been more of an explanation for this because it still seems really odd to me.
We also get an environmental message in the book through Galen Erso's quest to find ''sustainable energy'' from kyber crystals, and seeing how the Empire is strip-mining Legacy Worlds to build its Death Star, basically the equivalent of strip-mining a national park. The sustainable energy bit doesn't make a lot of sense to me because it's already established that the Star Wars universe has fusion power, currently something of a holy grail in the sustainable energy. So if you have fusion reactors, why the heck do you need more sustainable energy? Are you running out of hydrogen? It just raises too many questions. Second, the Empire strip-mining nature reserves is played for shock value when honestly that's one of the less evil things they've done. Don't get me wrong, it's bad, but corporations would do the same thing if there was money in it. Considering the Empire enslaves people
and
destroyed Alderaan, I think we've firmly established that the Empire are the bad guys. Seriously, remember Alderaan? And how they blew it up? And were going to blow up any other planets that resisted them? They're evil! Of course they strip-mine planets! They probably kick puppies too.
The result is a book that it honestly doesn't feel worth the effort of reading. If I really, really want to know how the Death Star was constructed, I could probably just look it up on Wookiepedia, and get several different versions of the story. The Ersos and Krennic don't feel very well developed as characters so I found it difficult to care about what happens to them before
Rogue One
. Add some issues like the heavy-handed but out of place environmentalism and it just makes the book feel worse. I think I can honestly say you're not missing a whole heck of a lot by skipping this book.
- Kalpar