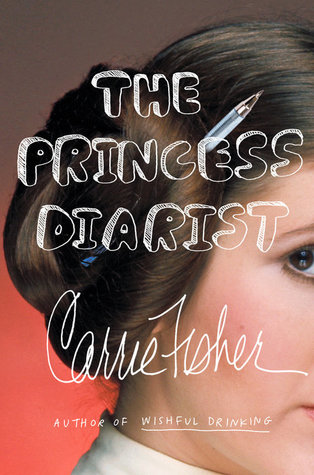 As I'm sure you all remember, exactly a year ago yesterday, in a tremendous, final ''Fuck you!'' to all of us, the dumpster fire of 2016 took Carrie Fisher from us. It was a final gut-punch to many people, especially the
Star Wars
fans big and small across the world.
The Princess Diarist
as a result was the last book Fisher ever published, (at least, none have been published posthumously yet), and I felt that making this book the last review of 2017 would be a fitting tribute to a woman who inspired millions of people.
While filming
Star Wars
in 1976 for about three months in London, the then barely nineteen year old Carrie Fisher kept a series of diaries recording her emotions and experiences both on and off the set, as well as her affair with costar Harrison Ford. Forty years later Carrie discovered these diaries in a box of old belongings and went through them and decided to publish excerpts, as well as extensive commentary from Fisher looking at the affair forty years later with the benefits of perspective. However, the book does not talk mostly about her experiences filming
Star Wars
, her first major role and what would become the biggest role ever in her career. Fisher provides some background material such as her own childhood and how she managed to land the part, but the book focuses mostly on her affair with Harrison Ford, and later her emotional relationships with her fans. At times explicit but also intimate,
The Princess Diarist
provides a look into the mind of a young girl who took a step into a larger world.
Some people have described this book as cringe-worthy regarding the amount of detail that Fisher went into. And while there were parts that I cringed at, it was more out of sympathy for a young Carrie Fisher about to die from embarrassment than from any sordid details. Frankly as far as I'm concerned, the fact that Fisher and Ford had an affair is hardly surprising. Certainly not the most ethical decision considering Ford was married with two children at the time, but I'm hardly one to throw stones when it comes to monogamy and the matter's been over and done with for forty years. It was a young girl who had no idea what she was looking for and an older man who probably should have known better, but to castigate them for a lapse in judgment is hardly worth the effort.
I think what's more important out of this book, than any shocking (or perhaps not so shocking) revelations about who was involved with whom, is the window into the mind of nineteen year old Carrie Fisher. We see a girl trying to be a woman who is troubled, who has had a life filled with emotional turmoil. A girl who wanted to avoid show business because she saw what it had done to her parents, but who had also dropped out of high school and was faced with the possibility that she was unsuited for any work
but
show business. Although Fisher does not talk about her struggle with bipolar explicitly in this book but you can see elements of that in her recollections and in the excerpts from her diaries. And the issues with drug abuse can be seen starting to creep into her life, but again are not really focused upon.
I think what I like most about this book was how vulnerable Fisher was willing to be with the world. She could have very easily burned the diaries, or hidden them away where they wouldn't be found, or just put them back in the box and forgotten about them again. She certainly didn't have to write a book about it. And while people might say it was cynically a cash grab with another tell-all memoir (the fact that she describes her convention appearances as lapdances certainly doesn't help), I prefer to take a kinder view. Fisher was willing to share with us an emotional time in her life when she was vulnerable and, really like the rest of us, had no idea what the heck she wanted to do with her life. And personally I think that's encouraging. Just knowing there are other people, people like Carrie who were catapulted to stardom by the age of twenty, who still were making it up as they went along, just like the rest of us. Maybe that's a tad too much of a ''they're just like normal people'' argument, but I still find it encouraging.
This book is complex and raunchy, going both high and low and everywhere in between. Maybe Fisher overshared, but I don't feel that she did. It was her story and I'd rather hear it coming from her than from anybody else. And if a sixty-year old woman wants to share the details of her life forty years ago, that's her prerogative. Ultimately I think this is a book you have to read for yourself, but if you felt some connection to our princess I think this book has something for you.
- Kalpar